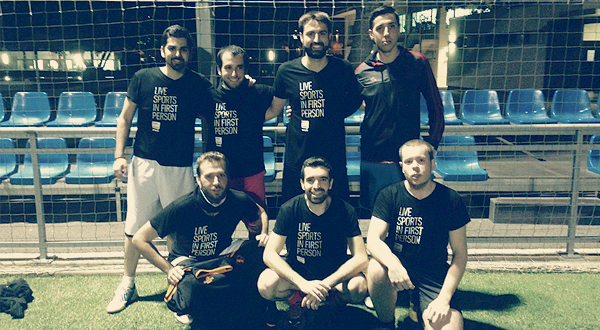 AN INCREDIBLE TEAM EVEN ON THE PITCH!
Last Friday, February 13th, the Club Atlético Montemar from San Juan, Alicante, played a 7-player friendly soccer match after the finals of the "Business League" Paddle tournament, organized by the company, BITmarketing.

One single match. What was originally going to be a tournament between many teams, turned out to be just one single match between From The Bench and a mix of various companies from the province of Alicante, such as Tainfoma, Oftex, Vectalia, BITmarketing, as well as our ex partners, Adora Media.
The courageous ones. On behalf of From The Bench, seven brave players fought the cold temperatures to show that they had what it takes, and they gave their all until the very last moment.
Fighting the humidity at the 8:30 p.m. kickoff The heat made it very difficult for all players as the ball became soaked as it moved across the grass, making it especially difficult for the goalkeepers to perform well.
Bad start. It wasn't a good start for the From The Bench team, as they fell 0-3 within just the first few minutes. This was the moment in which Enrique Muñoz and Javier García decided to lift the team onto their shoulders and carry them throughout the rest of this very exciting match.
Agonizing win After many slips and falls, and even some non-serious injuries, From The Bench celebrated an 8-7 victory thanks to the incredible goals by Enrique Muñoz (4), Javier García (2) and Deme Lledó (2).
At the end of the match between the two teams, they shook hands, eagerly waiting for their next match.
An incredible team even on the pitch!