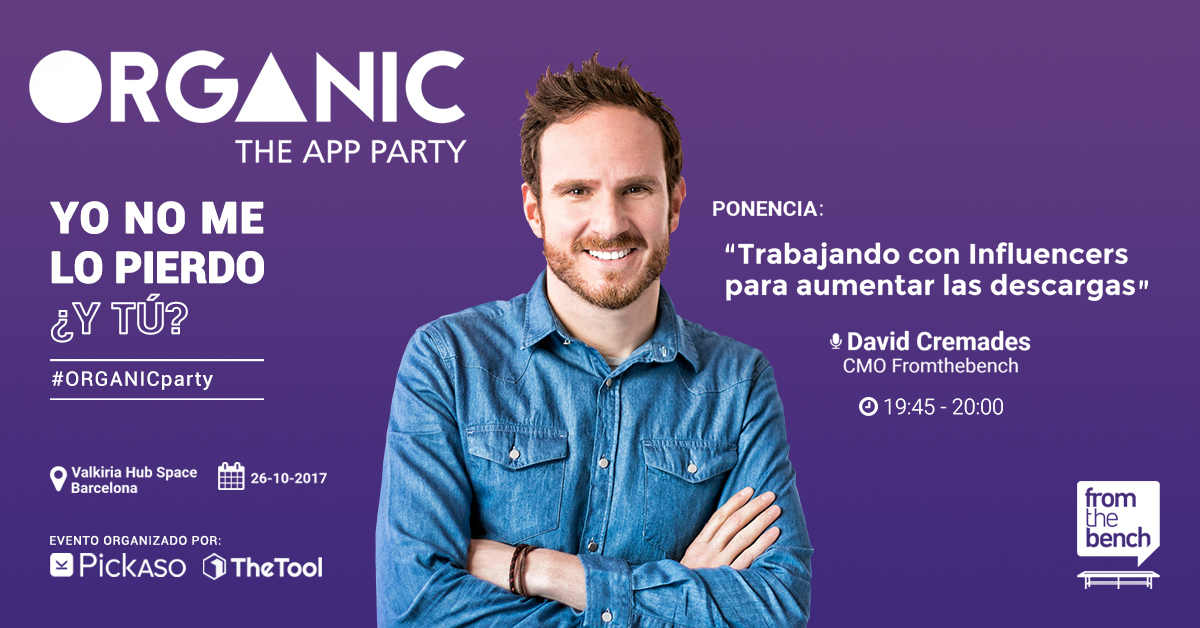 We're going to Barcelona!
The Valkiria Hub Space of the Condal City organizes today the third edition of Organic: The App Party, which is a yearly meeting for app marketing professionals to which From The Bench has been invited as a speaker. We will send Mr. David Cremades – CMO, as our company representative. He is going to speak about the work we do with influencers in order to optimize the downloads of our sports titles in Android and IOS.
The event will start at 6:30 p.m. with the issue of accreditations and the presentation of the Madrid Mobile Summit; an appointment which will be celebrated in the capital city between the 14th and the 15th of November. From 7 p.m., it will be a roundtable conference in which we will participate together with other agents, who come from companies such as Wallapop, Infojobs, 8Fit or B-Wom, with a 15 minutes limit per participant to expose different facets of app marketing. At the end of the meeting, there will be time for networking and having fun.
By the presence of Cremades in Organic: The App Party, we want to reinforce our image as a trail-blazer and emphasize the need of keep improving in all business areas. Not only does the event provide us an opportunity to expose our company image further and increase networking activity, but it also expresses that we do care about the new app marketing trends.
This open-minded and proactive attitude is undoubtedly the approach which made From The Bench the successful SME that is today. A company possesses various mobile games dev which made an appearance in Europe, America, and Asia; with more than a total of 100 million downloads from all the company sports games (Fantasy Managers, Football Flip, and NBA Flip, etc.). Moreover, FTB has 130.000 active users per day and acquired various important deals with many well-known sports clubs in the world. For all of that happened, a small group of 30 professionals had committed to do their best on the daily basis for the purpose of offering users the most satisfactory experience possible in every application available.