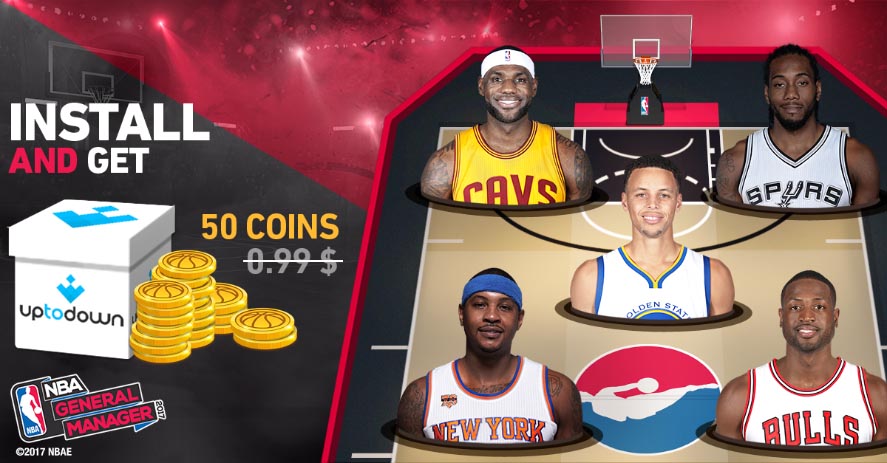 Earn free coins for NBA General Manager 2017 with Uptodown
At Uptodown we work closely with a number of app developers in order to offer their apps on our platform. From the Bench is one of the most successful Spanish studios with major official sports licenses as demonstrated by the tremendous popularity of the saga of football management strategy games that go by the name of Fantasy Manager. Not to mention the successful NBA General Manager 2017. Speaking of the latter, as a result of our tight partnership with its creators, from today on every active player in this game will receive an additional package of 50 free coins sponsored by Uptodown.
With the 2017 NBA Playoffs just begun, it's great time to get started on NBA General Manager, a sports management game where your objective is to bring glory to your team. More than just a simulator, it is a peculiar mix between RPG and strategic Manager where any action you take requires a certain amount of energy and your games are won or lost based on players individual stats, along with your team's overall numerical skill level — which is not a feature you'd usually find in your average sports sim-game.
From the Bench Games is an Alicante-based studio that since 2008 has been making its way in the much disputed Android market thanks to an impressively large range of sports titles endorsed by some of the most important sports licenses in the world. Even only as far as professional soccer leagues are concerned they already have official partnerships with FC Barcelona, Real Madrid and Bayern Munich among many others, in addition to the aforementioned licensing with the NBA, as well as other major American brands like Major League Baseball.