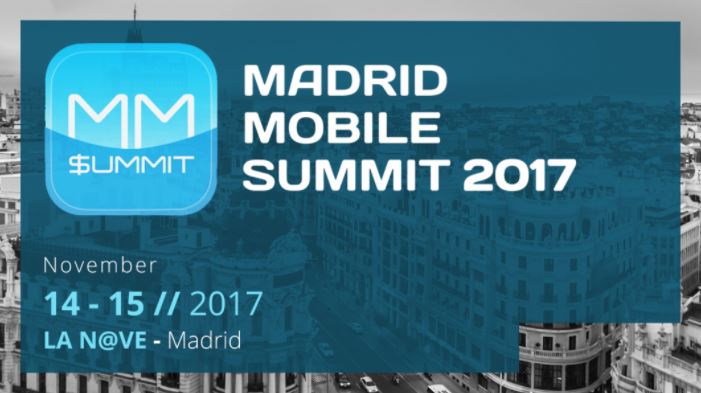 Once again, we've abandoned our humble abode to show From The Bench to the world, to continue learning and, most importantly, to network like crazy. In this occasion we'll do it at the Madrid Mobile Summit, the European edition of the well-known event focused on mobile ecosystem professionals. The previous editions were held in different cities of Israel.
Throughout the 14th and 15th of November, many companies from different economic sectors, such as communications, video games, home automation, telephone and banking will meet in "La Nave (the old Boëtticher Factory)" in Madrid. This isn't just an event about consolidated businesses that have introduced their marketing strategies based on mobile platforms, since the MMS will also be a place for start-ups to show their work and gain support. We'll see other names like BeChekin, Bigvu, BNeXT, Cargoback, Mr. Jobot, and many more.
In the mobile video game sector, we'll accompany other great professionals such as Sean Clark from Big Fish Games, JuanJo Monge from LabCave and Javier Castro from Google. Our CMO, Davíd Cremades, will represent us during this important event.
In addition to holding important meetings with several partners, Cremades will participate in two central activities throughout the morning of the first day. The first activity, which will be at 11:50 a.m., is called 'Leveraging the passion of sports fans to produce freemium mobile games'. In this talk our CMO will go over the From The Bench model in depth and give his personal views on the 'pros' and 'cons' that it has. Then, at 12:10 p.m., the 'Challenges of social user acquisition and monetization for games' activity will begin. This will be chaired by Cremades, Castro, Mika Kuusisto of Propagate and MediaPumppu as well as Roy Tzayag of Ilyon Games. In this second activity, the speakers will share their current experiences in user, where actions in social media networks are more important than ever.
Our participation in the first European Mobile Summit, together with other video game companies, only confirms From The Bench as a national and international benchmark in mobile gaming. Although the special tickets are already sold out, it's still possible to attend our CMO's activities by purchasing the basic pass on the event website for €59.
We hope to see you there!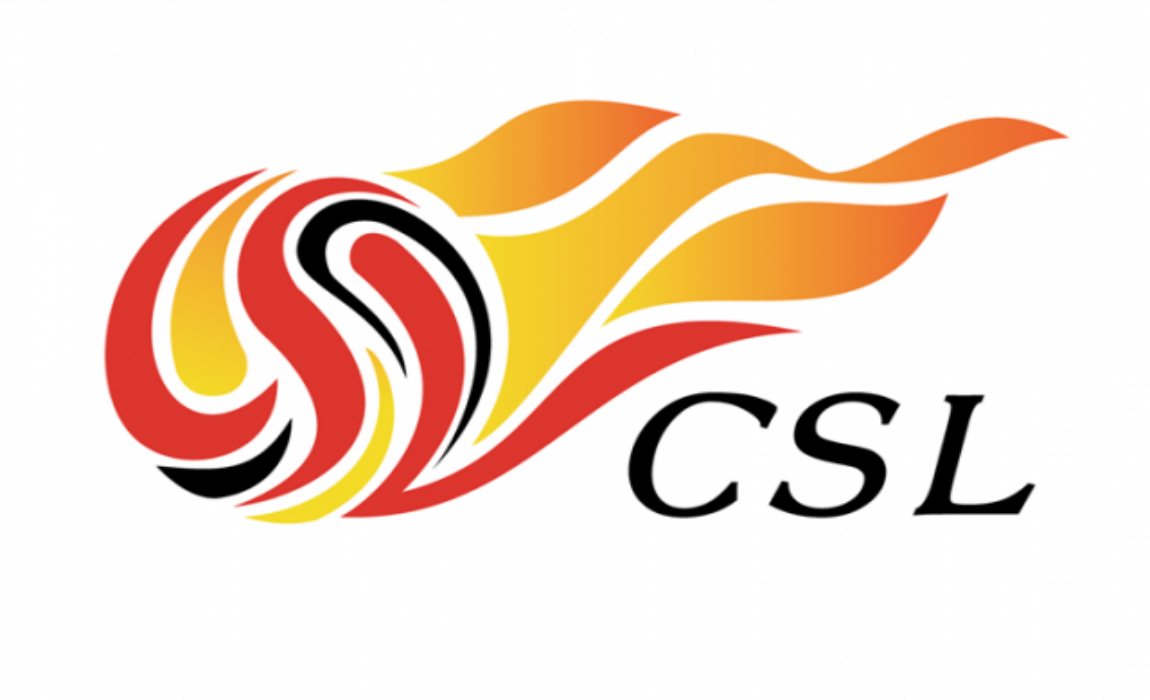 The countdown has begun for our official arrival in China where we'll be making our way into the National Superleague with three of our best games: Top Stars Football, Flip Football and Fantasy Manager Football. We reached an agreement this past summer with Crazy Sports, a video game development company headquartered in Beijing that belongs to Conglomerate V1.
V1 is known worldwide for its relationship with journalism as well as different internet lottery applications. This year, through Crazy Sports, the giant has signed an agreement for six seasons with the CSL to create video games based on the 16 teams participating in the competition. This deal, valued at 100 million yuan (15 million dollars), is expected to generate up to 1 billion yuan (150,000 million dollars) until 2020.
From The Bench, S.L. is one of the two European companies that Crazy Sports has put their trust in to carry out the project. The agreement only includes the localization of the games Top Stars Football, Flip Football and Fantasy Manager Football, being that they're the ones presenting them as the official publishers and they'll be carrying out the tasks related with the promotion of the applications.
At this time, all efforts are being put into working these games into the country's app stores. Eighty percent of those who have a cell phone use an Apple device, and the other 20% use and Android device. About this minority, Davíd Cremades, the CMO of our company, explains that it's complicated because "there are just as many stores as brands of phones, and every one of them has a payment method different from the one we have to adapt in the code." "Luckily," he adds, "the agreement with Crazy Sports only considers five of them."
Starting next month, to facilitate the localization tasks, From The Bench, S.L. will work very closely with a new Chinese intern: Li Xue. Xue is a student of Business Information Technology at the Lapland University of Applied Sciences (Finland). In addition to providing support in the Marketing department, she'll be in charge of translating the games into her native language.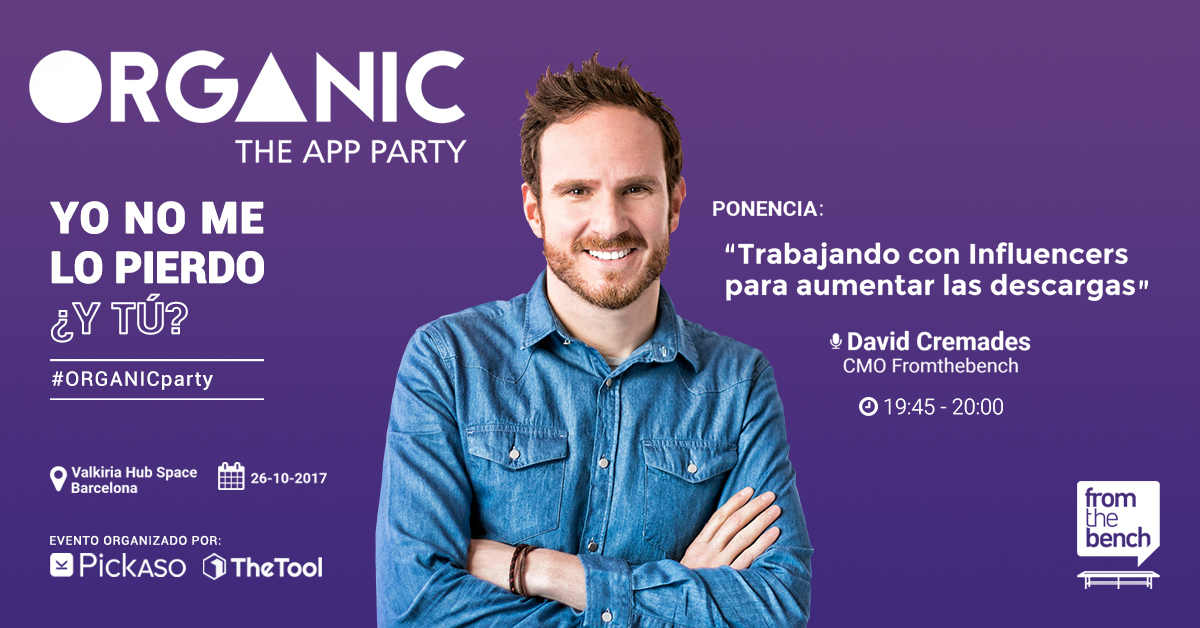 The Valkiria Hub Space of the Condal City organizes today the third edition of Organic: The App Party, which is a yearly meeting for app marketing professionals to which From The Bench has been invited as a speaker. We will send Mr. David Cremades – CMO, as our company representative. He is going to speak about the work we do with influencers in order to optimize the downloads of our sports titles in Android and IOS.
The event will start at 6:30 p.m. with the issue of accreditations and the presentation of the Madrid Mobile Summit; an appointment which will be celebrated in the capital city between the 14th and the 15th of November. From 7 p.m., it will be a roundtable conference in which we will participate together with other agents, who come from companies such as Wallapop, Infojobs, 8Fit or B-Wom, with a 15 minutes limit per participant to expose different facets of app marketing. At the end of the meeting, there will be time for networking and having fun.
By the presence of Cremades in Organic: The App Party, we want to reinforce our image as a trail-blazer and emphasize the need of keep improving in all business areas. Not only does the event provide us an opportunity to expose our company image further and increase networking activity, but it also expresses that we do care about the new app marketing trends.
This open-minded and proactive attitude is undoubtedly the approach which made From The Bench the successful SME that is today. A company possesses various mobile games dev which made an appearance in Europe, America, and Asia; with more than a total of 100 million downloads from all the company sports games (Fantasy Managers, Football Flip, and NBA Flip, etc.). Moreover, FTB has 130.000 active users per day and acquired various important deals with many well-known sports clubs in the world. For all of that happened, a small group of 30 professionals had committed to do their best on the daily basis for the purpose of offering users the most satisfactory experience possible in every application available.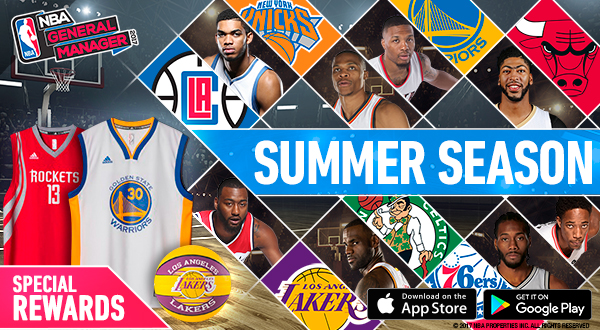 Yet again, in NBA General Manager, there's no time for rest in the summer. The most anticipated competition of the summer, the Summer Season, is back! However, this year we're dealing with some new changes in the competition.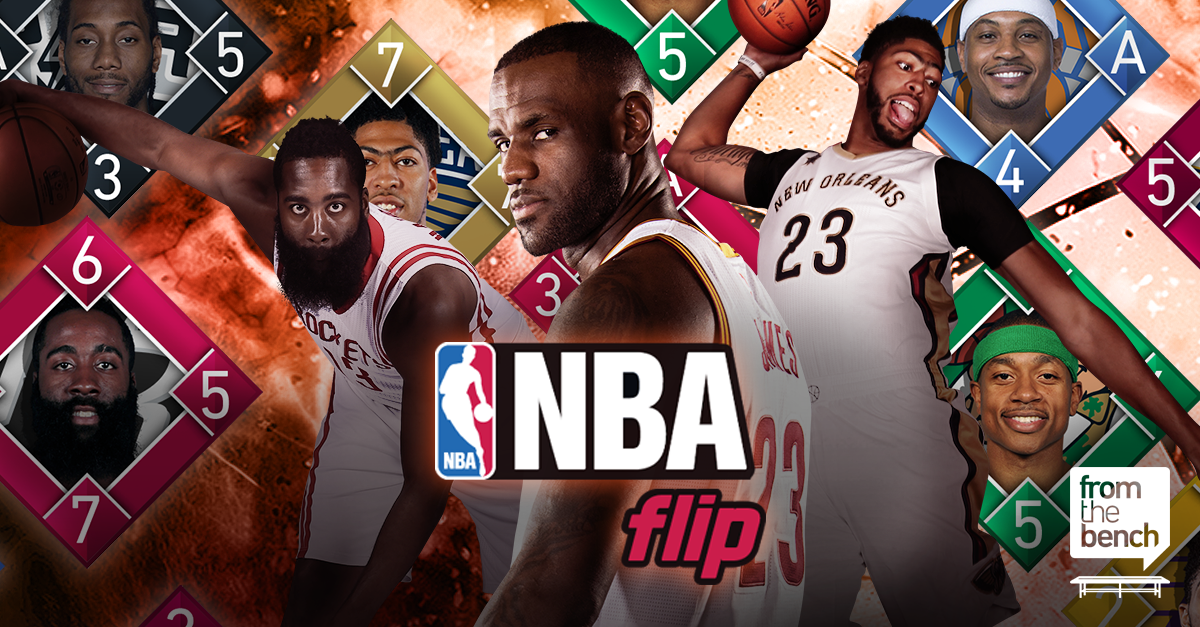 Get your team ready for action and enjoy the NBA from your PC with a different card game.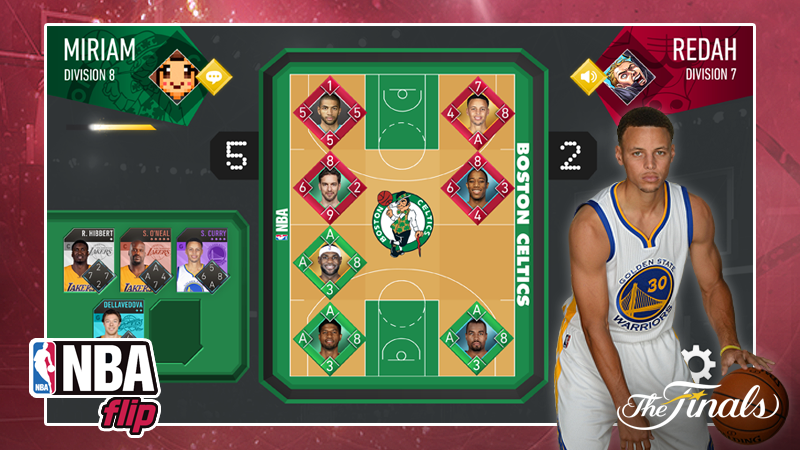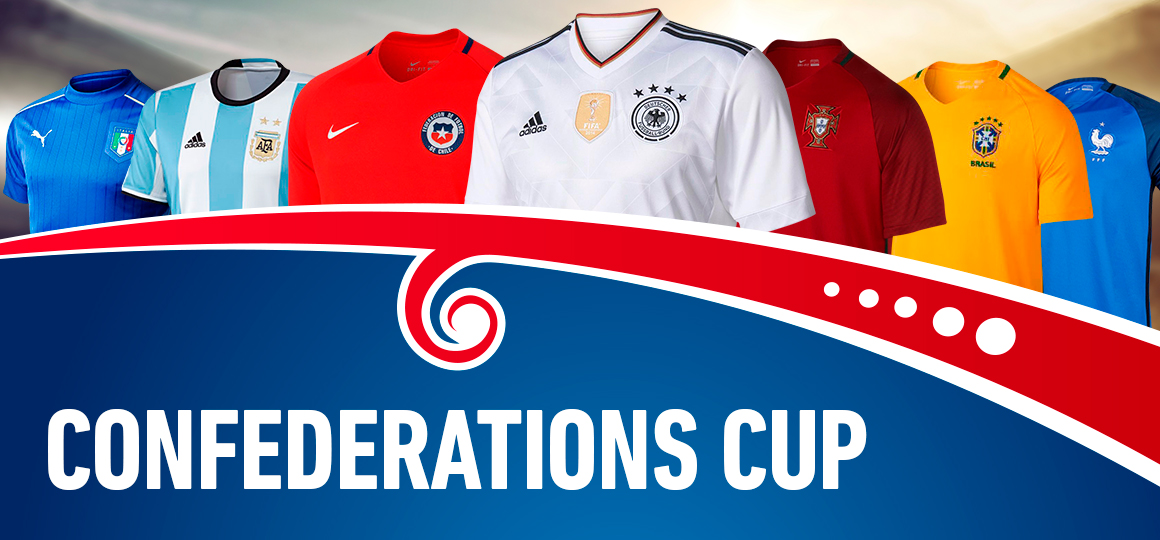 Get ready because, even though the club competitions are coming to an end, the special tournaments and competitions in Fantasy Manager live on.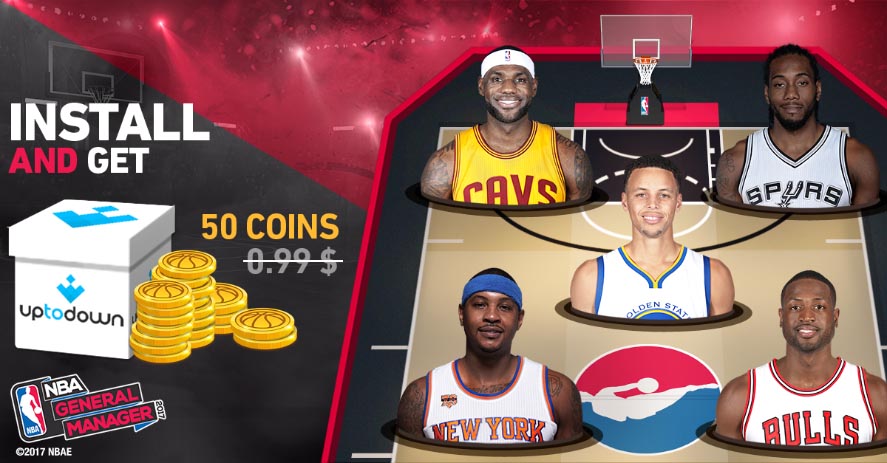 At Uptodown we work closely with a number of app developers in order to offer their apps on our platform. From the Bench is one of the most successful Spanish studios with major official sports licenses as demonstrated by the tremendous popularity of the saga of football management strategy games that go by the name of Fantasy Manager. Not to mention the successful NBA General Manager 2017. Speaking of the latter, as a result of our tight partnership with its creators, from today on every active player in this game will receive an additional package of 50 free coins sponsored by Uptodown.

A new feature has come to Fantasy Manager with which you'll be able to choose the best strategy for your players in each match. Will you be able to provide them with the best instructions? Because now you'll have more to do with the result of the game, choosing your players' roles on offense and defense.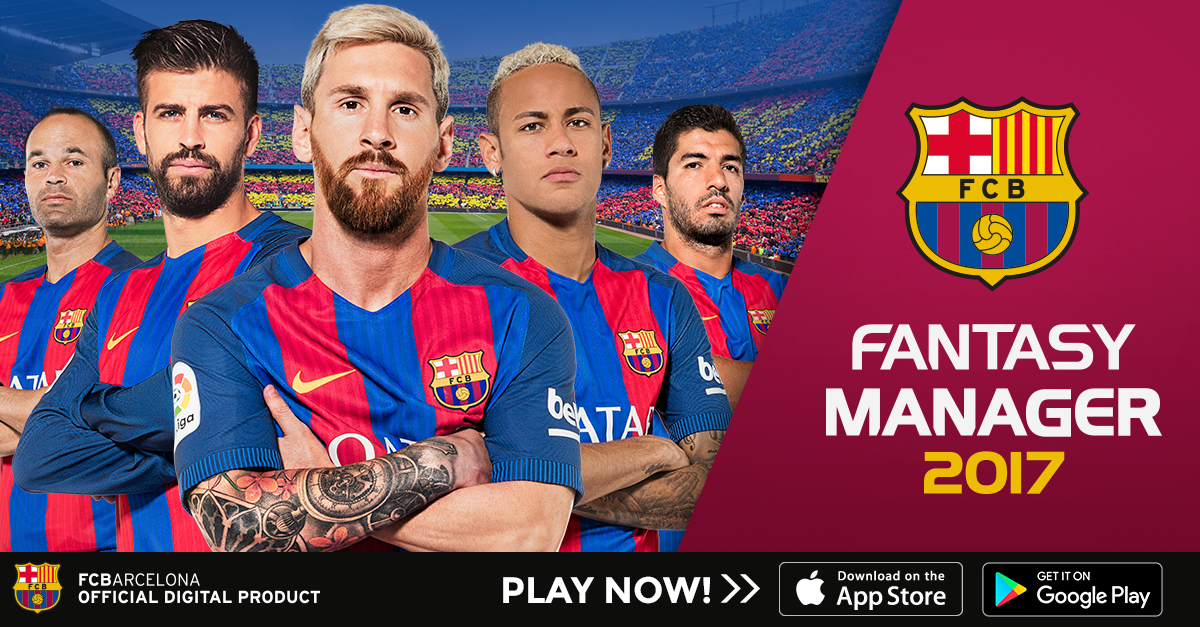 Have you ever dreamed about leading FC Barcelona?
Well, that moment has arrived! FC Barcelona Fantasy Manager will make you feel the magic of football as if you were playing an intense match in Camp Nou.
It's time to jump onto the pitch and build a team made up of Leo Messi, Luis Suárez, Iniesta, Neymar Jr, Piqué, and even more players from around the world. Improve their skills and level, and make sure to line up your best players from the very first moment. If you work hard, you'll be able to achieve an unbeatable team.
Don't just settle with your initial lineup. Show that you have what it takes to lead your team and sign the best players after each match. You could sign quality players like Rakitić, future stars like Sergi Roberto, team leaders like Busquets, etc. Create the best lineup in the world and fight for the win against every single opponent.
Compete in the best tournaments and win the league. Managing your roster in the right way is key to becoming the best manager.
An app that once had more than 2 million downloads in the previous edition, was number one in downloads in Spain and within the top 20 in downloads in the US, shows that this is something you've been waiting a long time for. The more than two hundred countries in which FC Barcelona Fantasy Manager was released will once again be able to experience the best matches in the palm of their hands.
Don't wait any longer! Download the official manager of FC Barcelona on iOS and Android now and start making history. ¡Visca Barça!